A recent book co-edited by Dr. NODA Ayaka, an Associate Professor of NIAD-QE, has been chosen by Japan Association for College and University Education (JACUE) for JACUE Selection 2020 (Certified Book FY2019). The book, published in November 2019, is entitled "Education and Employment Systems, and Youth Career Development in Europe: Guidelines for Cross-border Mobility and Internationalization" (Co-edited by FUJIMOTO Masayo, YAMAUCHI Mari, and NODA Ayaka). It has been highly regarded as a valuable resource in shedding light on current issues in Japan.
From perspectives of economics, politics, sociology, and education, this book discusses the recent trends and interactions in education, employment system, and career development in the Continental Europe where the Bologna Process is underway. It provides insight into cross-border mobility and internationalization in Japan.
In her chapter, Dr. NODA focuses on the reality and issues of higher education reforms in Europe, seeking balance between "harmonization" and "standardization" that the Bologna Process aims. She points out that there remain challenges regarding the application of tools and employability. Another chapter focuses on France where "international competitiveness" and "professionalization" are the main issues in higher education and its degree, certificate and qualification systems. It discusses recent reform of quality assurance and qualification system to deal with diploma inflation. This book is available only in Japanese.
---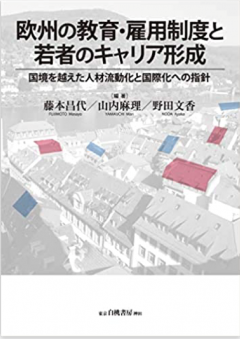 ---