The NIAD-QE University Quality Assurance Forum 2020 "The Tokyo Convention and Diversified Learning -Transition Phase in Recognition of Qualifications" was held online on Wednesday, September 23, 2020. A high number of higher education colleagues from 39 regions and countries registered, and there was 470 participation via YouTube on the event day.

The forum began with the opening address by FUKUDA Hideki, President of NIAD-QE, followed by keynote speeches by three internationally recognized experts. The three keynote speakers shared insights on the principles behind Asia-Pacific Regional Convention on the Recognition of Qualifications in Higher Education, so-called the Tokyo Convention as well as the Global Convention on the Recognition of Qualifications concerning Higher Education, or the Global Convention. They explored cases and issues in recognition of qualifications in light of differences in education systems, and deepened participants' understanding of the roles of NICs.
---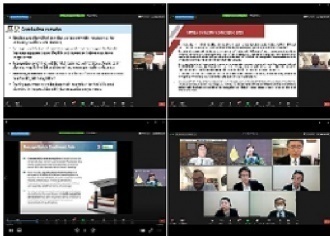 ---
Dr. Libing WANG, Chief of Section for Educational Innovation and Skills Development (EISD), UNESCO Asia-Pacific Regional Bureau for Education in Bangkok, shared his observation on flexible and diversified learning in higher education. He described that there has been an increasing trend in modality of program deliveries to replace classroom-based learning with online learning and blended learning. COVID-19 has accelerated this movement and the forms are becoming the new normal for higher education. Another phenomenon he mentioned is that higher education is absorbing non-formal learning and informal learning. He pointed out that fair recognition of learning and recognition of credits based on learning outcomes is more crucial than ever as form of learning becomes more flexible and diversified. He emphasized the importance of a common qualification framework, which keeps the flexibility and diversity in a certain unity, to attain comparability among learning programs.

Dr. Chantavit SUJATANOND, Centre Director of Southeast Asian Ministers of Education Organization Regional Centre for Higher Education and Development (SEAMEO RIHED), outlined initiatives in Southeast Asia towards enhancing cross-border mobility and internationalization of higher education. The initiatives include strengthening coordination of credit recognition and transfer, such as the ASEAN Qualification Reference Framework and the Greater Mekong Sub-region University Consortium. She brought to light the critical issue to adopt the new normal waken by COVID-19 in regard to the delivery of education and qualification recognition embedding assessment framework for learning outcome. In this regard, she highlighted the importance of clear information on recognition of skills and higher education qualification in each country and across the region of Southeast Asia.

Mr. Luca LANTERO, Director of Information Centre on Academic Mobility and Equivalence (CIMEA) and President of Lisbon Recognition Convention Committee Bureau, presented an overview of the process in the European region to frame higher education qualification recognition, and the concept of the substantial difference applied for recognition activities at his organization. He indicated that recognition of higher education qualification should be recognized as a global issue and challenge. He then went over the development of the recognition in Europe leading to recognition based on equivalency and even going further to mutual and automatic recognition. Furthermore, he added that the recognition remains a critical matter because the number of students seeking study opportunities outside their home countries is still increasing even under COVID-19 disruption. In relation to the student mobility among education systems, he illustrated CIMEA's approach to verify the authenticity of qualification and concept of substantial difference composing a key part of CIMEA's principles towards evaluating foreign qualifications.

Thereafter, HOTTA Taiji, Professor of the Research Department at NIAD-QE and Executive Director of National Information Center for Academic Recognition Japan, moderated a panel discussion.
The latter part of the program featured interactive online polls to gain insights into the awareness of diversified learning among the participants and presentations by four Japanese experts. The presenters included Mr. SATO Kuniaki from Ministry of Education, Culture, Sports, Science and Technology, Mr. YAMAMOTO Natsuki from Hitachi Ltd., Professor SUGIMURA Miki from Sophia University, and Dr. TANIGUCHI Isao from National Institute of Technology. Their presentations addressed issues in response to recent developments in higher education as well as Japan's good practices and future expectations from the viewpoint of leading practitioners in policymaking, industry, and higher education.

Following the presentations, Professor HOTTA moderated discussion among the keynote speakers and the panel members, sharing the results of the polls and their comments. The dialogue provided an in-depth look at issues surrounding non-traditional learning, student-centered approach and the value of academic degrees, calling for urgent consideration on such issues in higher education at both national and international levels.

The forum concluded successfully with closing remarks by HASEGAWA Toshikazu, Vice-President of NIAD-QE.

---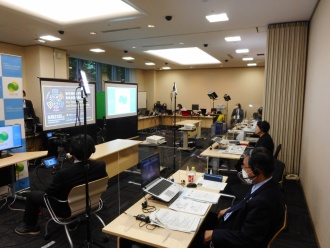 ---
Presentation materials and video clips from University Quality Assurance Forum will be available at
https://www.niad.ac.jp/english/news/en2020/uqaf2020.html
---