On August 6, 2018, NIAD-QE University Quality Assurance Forum 2018 - Universities Crossing Borders was held at the Hitotsubashi Hall of the National Center of Sciences Building with the support of Asia-Pacific Quality Network (APQN), Japan University Accreditation Association (JUAA), Japan Institution for Higher Education Evaluation (JIHEE), Japan Association for College Accreditation (JACA) and Japan Network of Certified Evaluation and Accreditation Agencies (JNCEAA).

Over 200 participants, consisting mainly of those in the field of higher education, were on hand to listen intently to the forum discussion.

---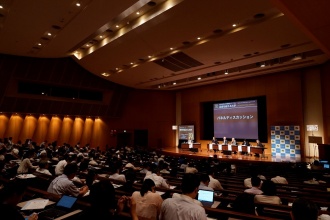 ---
In light of the trend in globalization of education, the forum provided an opportunity to learn about international branch campuses. Experts were invited from universities in the United States, Malaysia, Netherlands and Japan to give talks on global trends in international branch campuses and merits and issues in establishing an international branch campus, and to open the floor to in-depth discussion on the perspectives that the universities in Japan should bear in mind in the context of business strategy decisions for opening a branch campus overseas.

In the first half of the program, FUKUDA Hideki, President of NIAD-QE, kicked off the forum with an opening address, followed by an introductory presentation by YAMAMOTO Shinichi, Director of Research Department at NIAD-QE, and keynote lectures by Jason LANE, Chair of Department of Educational Policy and Leadership, School of Education, University at Albany, State University of New York, Andrew WALKER, President and Pro Vice-Chancellor, Monash University Malaysia, and Janny DE JONG, Director of Studies Erasmus Mundus Master Course Euroculture and Director of Center for Japan Studies, University of Groningen.

LANE, having researched international branch campuses, introduced the global trends in international branch campuses from the perspective of its history, current state and purpose of establishment. Other topics discussed in relation to opening an international branch campus includes practical issues encountered in finance, brand management, academic freedom, governance and quality assurance.

As a speaker who engages in the operation of an international branch campus, WALKER, in addition to describing the actual work involved in its operation, explained how its close relationship maintained with the university in the home country facilitates an environment for rich student life as well as enabling the same degrees as those in the university of the home country to be available, while also addressing the need to rely on high tuition due to the lack of public funding and the difficulty of filling posts within the university with qualified staff.

DE JONG recounted her effort in the plan to open a branch campus for the University of Groningen in Yantai, China, a non-English speaking part of the world, in order to step up the recruitment of Chinese students and to internationalize the university and enhance its presence. The plan was discontinued immediately prior to the opening of the campus despite the effort. Even with strong leadership working to move the plan forward, many difficult issues were encountered, including forming of consensus with faculty and students, securing of local staff, and establishing quality education.

In the second half of the program, a panel discussion moderated by TAKENAKA Toru (Professor, Research Department, NIAD-QE) was held where YOSHIKAWA Naoto (Vice Chancellor (Global Initiatives and Consistent Education), Tokai University, and Chancellor, Hawaii Tokai International College (HTIC)) and MATSUDA Atsunori (Vice President (International Affairs), and General Director of Institute for Global Network Innovation in Technology Education (IGNITE), Toyohashi University of Technology) presented their perspectives on examples of Japanese universities crossing borders and issues in quality assurance based on their own experiences.
---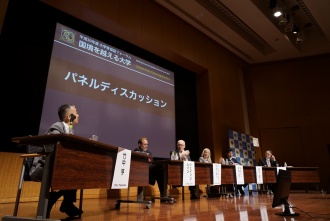 ---
On the following day, the three expert presenters from abroad were invited to participate in an open workshop to provide an in-depth understanding of international branch campuses through practical subjects and to delve further into topics that included advice for Japanese universities contemplating the establishment of an international branch campus, synergy between campuses in the home country and abroad, and quality assurance.

Using Monash University Malaysia Campus as an example, WALKER explained how establishing an international branch campus can change the university in the home country for the better and the necessity to minimize initial investment, secure local partners, and establish governance with the campus in the home country through cooperation.

Based on her experience at University of Groningen, DE JONG described the merits of opening an international branch campus, such as building of presence in the area where a branch campus is opened, enhancement of student awareness in foreign culture, internationalization of education, and establishment of cooperative relationship in education and research between industries found locally and in the home country. She also advised on not placing too much emphasis on financial gains, establishing accountability and a clear system of command, and establishing compliance with the quality assurance framework of the home country.

LANE believes there are issues that must be examined or addressed at each stage in the life of an international branch campus: consistency with the school philosophy at the concept stage; cultural consistency with the local country, processing of establishment permits and compliance with the quality assurance system in place, and management of student mobility between campuses at the establishment stage; coordination with the local community at the expansion stage; and consideration and treatment of students and faculty at the withdrawal stage.

The forum presentations can be downloaded from our website.
---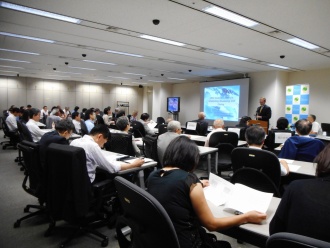 ---