Under the cooperation based on a MOU between NIAD-QE and Hong Kong Council for Accreditation of Academic and Vocational Qualifications (HKCAAVQ), the 2nd Staff Exchange Program, participated by an Academic Accreditation and Assessment Registrar staff at HKCAAVQ, was held at NIAD-QE for 4 days between June 11 and June 14, 2018.
The aim of the program is to exchange information and knowledge on quality assurance and to strengthen the cooperative relationship between the two organizations. In order to mutually acquire in-depth understanding, the NIAD-QE faculty and staff lectured on the roles of their organization including university evaluation, conferment of degrees, international cooperation and research, while the HKCAAVQ staff explained about HKCAAVQ program evaluation with respect to Hong Kong's Qualifications Register (QR). In addition, on Wednesday, June 13, the HKCAAVQ staff participated as an observer in the explanatory meeting held by NIAD-QE regarding its certified evaluation and accreditation (CEA) for universities and learned about the new standards and processes implemented for the 3rd cycle of CEA.
On the final day of the program, a presentation was given by the HKCAAVQ staff on the current trends in higher education in Hong Kong.
The staff exchange program was highly beneficial for NIAD-QE and HKCAAVQ, providing an opportunity for the organizations to deepen mutual understanding on recent development in quality assurance for higher education in Japan and Hong Kong.
---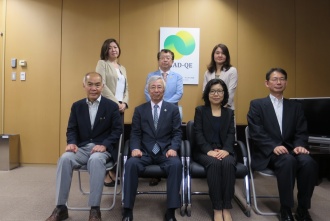 ---

---
Commemorative photos
---