In order to strengthen the capacity of quality assurance agencies to develop and assess good practices, INQAAHE (International Network for Quality Assurance Agencies in Higher Education), in cooperation with and with financial support from APQN (Asia-Pacific Quality Network), organized a workshop named 'APQN/INQAAHE Workshop on Good Practices in Quality Assurance' on 25 October 2011 in Tokyo Japan, aimed at giving APQN members an opportunity to share their good practices in quality assurance. The workshop was sponsored with support from GIQAC (Global Initiative on Quality Assurance Capacity) funds. NIAD-UE, an APQN member, hosted the event.
The workshop was a APQN member-only event, where 15 participants from 12 APQN members (See below) gathered with 26 practices in total. Dr. Séamus Puirséil, on behalf of INQAAHE, and NIAD-UE's Vice-President Kazuo Okamoto, on behalf of the Board of APQN, were responsible for planning and organizing the workshop and also served as a coordinator during the workshop.
Agency

Presenters

1

Accreditation Committee of Cambodia

Sok Uttara

2

Hong Kong Council for Accreditation of Academic & Vocational Qualifications

Fan Yiu Kwan

3

National Assessment and Accreditation Council, India

Bangalore Seshadri Madhukar
Wahidul Hasan

4

National Accreditation Agency for Higher Education, Indonesia

Adil Basuki Ahza

5

University Grants Commission, Nepal

Hridaya Ratna Bajracharya

6

National Accreditation Council for Teacher Education, Pakistan

Munawar Sultana Mirza

7

Quality Assurance and Accreditation Council, Sri Lanka

Jayasinghe Mudalige Udith Krishantha Jayasinghe

8

Higher Education Evaluation & Accreditation Council of Taiwan

Yung-chi Hou

9

Directorate of Vocational Training, Vietnam

Pham Duc Tien

10

General Department of Education Testing and Accreditation, Vietnam

Vu Thi Phuong Hien

11

Japan University Accreditation Association

Norihiko Suzuki

12

National Institution for Academic Degrees and University Evaluation, Japan

Syun Tutiya
Yumiko Yoshikawa
Susumu Shibui

During the program, each participant presented their practices at either of two parallel working sessions. In the last part of the parallel sessions, each group had a discussion to find advanced practices or practices which could be particularly transferable to other QA agencies. At the final plenary session, participants shared a few cases that were recognized as an advanced/particularly transferrable practice.
The practices presented at the workshop comprised a variety of topics coming from QA agencies with a wide range of experience in quality assurance from beginners to those having over 20 years. It was a useful and valuable opportunity for the participants in tracing the development of the quality assurance systems and tools as well as learning how to proceed in the future.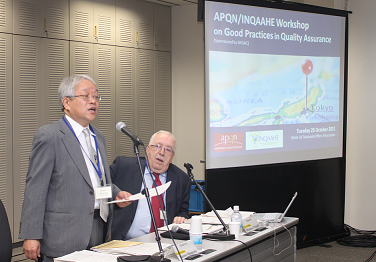 Left - Dr. Kazuo Okamoto, Right - Dr. Seamus Puirseil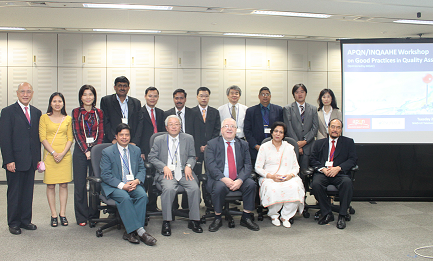 Workshop Coordinators and Presenters

---