The NIAD-UE has been collecting and analyzing information on leading cases in foreign countries with an aim to contribute to developing guidelines for quality assurance regarding the international cooperation programs of universities in Japan, as well as for seeking the best means of evaluation. As part of these activities, Dr. Kawaguchi, Specially Appointed Professor, and two other staff members visited the University of Natural Resources and Applied Life Sciences in Austria, the University of Hohenheim in Germany, the National Agency for Higher Education in Sweden, and Wageningen University in the Netherlands during May 3-7.
At each university and institution, they were provided with information regarding quality assurance systems and procedures regarding university educational programs, which are based on the protocol of a local quality assurance agency. In addition to that, they were provided with information in respect to the present status, quality assurance, and the selection procedures for partner institutions in international cooperation programs.
In Austria, Germany, and the Netherlands, in particular, they were provided with explanations on the ELLS system (a network of leading universities in Europe cooperating in the field of life sciences and environmental science, etc.), quality assurance management, and international quality benchmarking.
In Sweden, they had opportunities to discuss the introduction of new evaluation systems for quality assurance and the possibility of future collaboration, including staff exchange, etc.
Moreover, the survey team exchanged views on the situation of higher education in Japan, Austria, Germany, Sweden, and the Netherlands, as well as the current trend of internationalization, and acquired beneficial knowledge concerning the current situation of international cooperation programs and the features and challenges of quality assurance systems associated with them.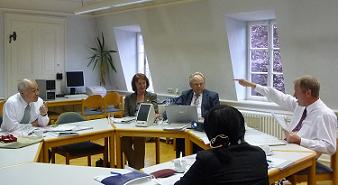 University of Hohenheim in Germany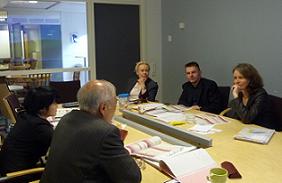 National Agency for Higher Education in Sweden
---