In response to a request from the National Accreditation Agency for Higher Education (BAN-PT), a quality assurance agency in Indonesia, NIAD-UE has accepted four external assessors from the BAN-PT, provided training program. The program consisted of lectures on external quality assurance systems in Japan and quality assurance mechanisms in the field of teacher education, and site visits, from Wednesday, Sept. 29th (Wed) to Oct. 8 th (Fri), 2010.

The training program included visits to NIAD-UE, the Ministry of Education, Culture, Sports, Science and Technology (MEXT), the Japan Institution for Higher Education Evaluation (JIHEE), the Japan University Accreditation Association (JUAA), Tokyo Gakugei University, and Ochanomizu University. The trainees also attended the 'Japan-ASEAN Information Package Seminar', organized by the NIAD-UE on Sept. 30th (Thu).

During the visit to MEXT, Mr. Shigeharu Kato, Deputy Director-General (for the Higher Education Bureau) commented that he has long waited for this kind of training program with Asian countries, since there has been an active exchange of evaluators among various agencies in Asia, and he expressed his hope that the training will be beneficial. Thereafter, they visited the NIAD-UE, JIHEE, and JUAA, and briefly learned about the certified evaluation and accreditation system in Japan.

At Tokyo Gakugei University, they were given a lecture on teacher education, including the current situation in Japan regarding such, along with the university's policy and system concerning teacher education. They also learned about the Institute for the Evaluation of Teacher Education. When they visited Ochanomizu University, academic staff gave lectures on their activities, including 'Ongoing activities to support women', 'Japanese language education', 'Mathematics (science) education', and 'The ccurrent status of international exchange and ongoing activities for international cooperation'.

On the final day of the training program, a closing ceremony was held at the NIAD-UE, and the four trainees gave reports on the training program. President Hirano of the NIAD-UE, awarded a certificate to each of trainees.
Photos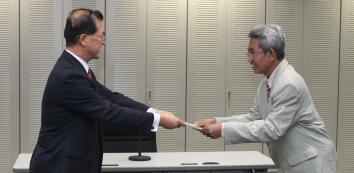 Awarding the Certificate from NIAD-UE President Shin-ichi Hirano to Trainee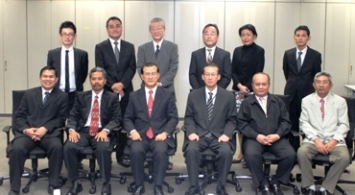 Ceremonial photograph at the closing ceremony
---