NIAD-UE visited Australia in this October to do some research on quality assurance system there, discuss the possible collaboration with relevant organizations. The meetings were held in the following eight institutions:

Department of Education, Employment and Workplace Relations (DEEWR), the Queensland Office of Higher Education (QLOHE), Queensland University of Technology (QUT), University of Queensland (UQ), Australian National University (ANU), Universities Australia (UA), and Group of Eight (Go8). Vice-President Akihiko Kawaguchi, Professor Yuko Furukawa and two staff members from NIAD-UE attended.

Moreover, Dr Kawaguchi delivered the presentations on quality assurance system and learning outcomes activities in Japan at the Australia-Japan High Level Policy Dialogue held in the 12th of October in Canberra.
Regarding the meeting with DEEWR, representatives from our organization met with officers in Higher Education and International Programme Groups, to discuss higher education quality assurance system, new trends in the higher education, and OECD-led AHELO (Assessment of Higher Education Learning Outcomes) project in both countries. In particular, DEEWR explained the latest information about new national quality assurance agency called TEQSA, the Tertiary Education Quality and Standards Agency, which is to be established in 2010 and the Federal Government-led higher education reform. DEEWR and NIAD-UE also discussed future collaboration and cooperation in the area of mutual interest. Agreement was reached regarding the promotion of future cooperation and development of this mutual beneficial relationship between TEQSA and NIAD-UE from now on. Also, DEEWR expressed their interest in actively participating in the Asia-Pacific Quality Network.
With regard to the meetings with the state government, universities (QUT, UQ and ANU), UA and Go8, we asked for them about the comment on recent higher education reform including the TEQSA establishment. In addition, we exchange views on how to improve the internal quality assurance system in each organization and learn best practices on QA. We have agreed that we continuously exchange information and seek for possible cooperation of mutual interest.
Consequently, we thought that the outcomes of the meetings with each organization in this occasion were very positive, as we were able to positively and concretely share ideas towards developing cooperation with each other.

Furthermore, we believe that the outcome is the stable base to encourage Australian counterparts and NIAD-UE to enhance further collaboration in the near future.
For details about the institutions we visited, please refer to the website below:
DEEWR: http://www.deewr.gov.au/Pages/default.aspx
QLOHE: http://education.qld.gov.au/office/higher-education/qld-office.html
QUT: http://www.qut.edu.au/
UQ: http://www.uq.edu.au/
ANU: http://www.anu.edu.au/index.html
UA: http://www.universitiesaustralia.edu.au/
Go8: http://www.go8.edu.au/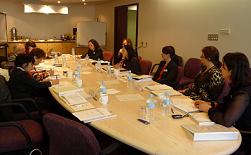 Meeting between DEEWR and NIAD-UE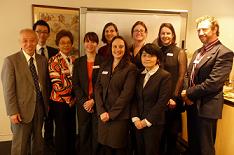 Commemorative photo (DEEWR and NIAD-UE)
---