On 12 November 2008, two delegates from the National Authority for Quality Assurance and Accreditation of Education (NAQAAE) in Egypt visited NIAD-UE Kodaira Headquarters, and exchanged information with NIAD-UE's staff.

NAQAAE is an Egyptian organization which was newly established in November 2007 with the main goal of supporting the Egyptian educational institutes in fostering quality assurance measures and prepares them for accreditation. It conducts accreditation of all Egyptian educational society from pre-school education to higher education.

The purpose of the visit was to study and deepen the general knowledge of quality assurance/ evaluation in the field of higher education.

First of all, Dr. Kimura, President of NIAD-UE, delivered the welcome address. Next, Dr. Magdy Kassem, President of NAQAAE, introduced its organizational activities. Then, Dr. Kawaguchi, Vice-President of NIAD-UE, gave general overview of its university evaluation. In the following discussion, both parties gave questions and exchanged information about each evaluation and accreditation activity and talked about recent issues of higher education in both countries.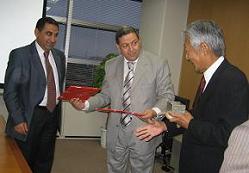 ---