On December 14, 2019, Forum on Quality Assurance & Risk Control of Private Universities and Colleges, an international conference on the theme of "quality assurance for private higher education institutions in China" was held in Shanghai, China. The conference hosted by Education Evaluation Center of China Association of Non-government Education and other institutions was participated by an estimated 100 participants, including by those from private universities and colleges in China and quality assurance agencies both within and outside of China.

Participants from NIAD-QE included staff of International Affairs Division and Special Appointed Professor Jagannath Patil, who has been an advisor for National Assessment and Accreditation Council (NAAC) of India.
---
The keynote presentation, "Trends and Good Practices in Higher Education Quality Assurance: International Perspectives", was presented by Professor Patil at the conference. Drawing from his knowledge of quality assurance gained through his previous positions held as both the President of Asia Pacific Quality Network (APQN) and International Network for Quality Assurance Agencies in Higher Education (INQAAHE) , the presentation by Professor Patil covered topics including quality assurance and its trends and roles in private universities and colleges in India and other countries, the purpose of international quality assurance networks, and good practices in quality assurance systems in different countries including Japan.
---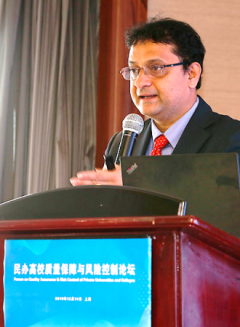 ---
The conference included other highlights. On the subject of private universities and colleges and their survival in the era of falling birthrate, experts in higher education pointed to the need to improve the quality of education, differentiate education based on market needs, and secure multiple sources of funding. Quality assurance agencies specializing in private universities and colleges presented their work on the development of quality assurance framework adapted to private universities and colleges.

Examples of good practices in internal quality assurance initiatives with emphasis on learning outcomes, implemented for the purpose of improving the quality of education, were also presented at the conference by higher education institutions including private universities promoted to 4-year university status and universities operating Chinese-foreign Cooperative Education—an educational initiative operated jointly by educational institutions in China and other countries.

---