As part of the collaboration based on the Memorandum of Co-operation between NIAD-QE and Tertiary Education Quality and Standards Agency (TEQSA) of Australia, the 4th Staff Exchange Program was held from the 22nd to the 26th of October 2018 at TEQSA, a quality assurance agency under the Australian Government Department of Education and Training, based in Melbourne, Australia. Attending the program for NIAD-QE was Specially Appointed Professor TUTIYA Syun of the Research Department and 2 staff members of the International Affairs Division.

As part of the program, NIAD-QE exchanged views with TEQSA and studied about TEQSA's work with higher education institutions to provide support for quality assurance in higher education, including risk-based assessment performed by TEQSA, protection of incoming international students based on Education Services for Overseas Students (ESOS), cooperation between TEQSA and other agencies including professional organizations, and efforts to reflect student opinions in accreditation of higher education providers. NIAD-QE also provided TEQSA with an overview presentation about the work of NIAD-QE and higher education policies of Japan.

On Day 2 of the program, NIAD-QE visited the Academy of Information Technology Pty Ltd, a private education institution providing both higher education and vocational education, and participated as observers in a site visit for Commonwealth Register of Institutions and Courses for Overseas Students (CRICOS) registration. On the last day of the program, NIAD-QE observed a meeting by the TEQSA Commission, the highest decision-making body within TEQSA.

During the program, NIAD-QE met with both the CEO and Chief Commissioner of TEQSA to reaffirm their continued commitment to deepen understanding of one another's organization through activities that include staff exchange, as well as to discuss future exchanges and cooperation.

TEQSA will be welcomed visit NIAD-QE in the next round of exchange planned for the exchange program.
---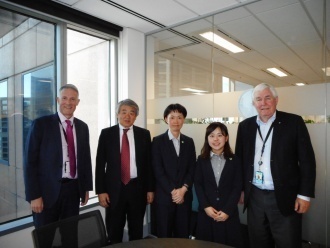 ---