With the increase in international cooperation programs between Japanese and overseas universities, NIAD-UE has been collecting and analyzing information on pre-existing cases in foreign countries as an initial step in considering the formulating standards and a screening process for quality assurance.

As part of the activities, Vice-President Kawaguchi and two staff members visited the University of Amsterdam, Utrecht University, Leiden University and Radboud University Nijmegen in the Netherlands, and the University of Glasgow and University College London (UCL) in the United Kingdom during February 15 to 18. In addition, prior to that, two staff members visited the University of Groningen in the Netherlands on February 12.

At each university, they were provided with information regarding the QA systems and the procedures for education programs in universities based on the protocol of internal quality assurance of the institutions. In addition to that, they were provided with information in respect to the present status, quality assurance, and selection procedures for partner institutions.

In addition, they exchanged a wide range of information on the current situations of higher education and the trends of internationalization in Japan, the Netherlands and the United Kingdom. As a result, they could obtain beneficial knowledge with respect to the current situation of international cooperation programs, and also the features of QA systems and the challenges associated with them.

Moreover, they visited NVAO (Netherlands and Flemish Accreditation Organisation) and Nuffic (Netherlands Organisation for International Cooperation in Higher Education) on February 19, and exchanged views on the Japan- Europe Quality Assurance Seminar to be held by the institutions in June this year and on the conclusion for memorandum of understandings in the future.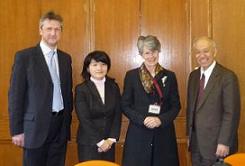 Photo at UCL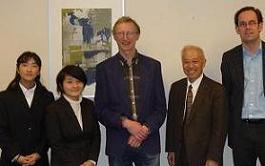 Photo at Radboud University Nijmegen
---