Monitoring Reports
(Published in 2014)
The full monitoring report created for each program contains an overall conclusion as well as results by criterion. The monitoring results for each criterion include 'initiative characteristics' and 'good practices' identified from the perspective of education quality. Comments from committee members regarding future challenges are also included in the report.

'CAMPUS Asia' pilot programs were in their third year in 2013 when the first monitoring was conducted and exchanges were well underway. Self-analysis reports covered providers' initiatives through the end of 2012 academic year (March 2013), but the monitoring committee also took the progress of exchange programs during the 2013 academic year into consideration when examining monitoring results.

Overview of the 1st 'CAMPUS Asia' Monitoring Results
Highlights include the overall conclusion and some good practices chosen from the pilot program as shown in the list below.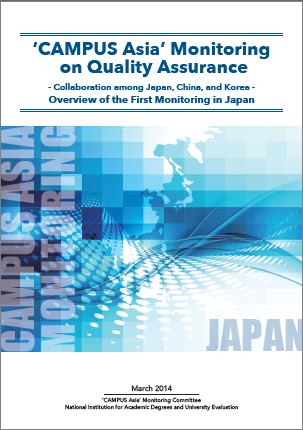 'CAMPUS Asia' Monitoring on Quality Assurance -Collaboration among Japan, China, and Korea- Overview of the First Monitoring in Japan (2014)
Compiled by the 'CAMPUS Asia' Monitoring Committee of NIAD-UE

The overview of the first CAMPUS Asia monitoring in Japan which contains the monitoring results, summary of the monitoring report
by each program as well as a proposal from the monitoring student committee.