Implementation Structure
'CAMPUS Asia' Monitoring Committee
To conduct monitoring, NIAD-UE formed a 'CAMPUS Asia' Monitoring Committee and subcommittees consisting of academics and experts with in-depth knowledge of the quality assurance of higher education and experience managing international educational programs.

The monitoring committee, consisting of eight members, is responsible for finalizing the monitoring criteria, methods and determining monitoring results. Representatives of monitored program providers also participate in the committee. They are expected to bring the providers' perspective into the discussion of topics such as the dissemination of monitoring outcomes.

Subcommittees perform document studies, site visits and draft monitoring reports. Subcommittees are composed of university presidents, professors, professionals, and experts from industry.

Liaison Meetings for the 'CAMPUS Asia' Program Providers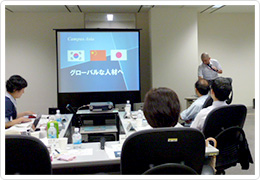 A feature of the first monitoring in Japan is the NIAD-UE organized liaison meeting for 'CAMPUS Asia' program providers (Japanese providers). Prior to the commencement of the monitoring process, providers and NIAD-UE held three liaison meetings to discuss the monitoring framework and criteria. Meetings also provided opportunities for providers to share the progress of their programs with each other.

Meetings aim to promote mutual understanding between providers and NIAD-UE in order to maximize the effectiveness of monitoring and reduce providers' workload. After the first monitoring results were finalized in the monitoring committee meeting, NIAD-UE held the fourth liaison meeting in February 2014 and shared results and exchanged opinions with program providers.